School Governors
John Burns School has a strong and supportive governing body, made up of representatives from the Local Authority, school staff, parents and co-opted members.
The governing body work as a team to oversee our school and make sure it provides a good quality education for the pupils. It is made up of parent governors, community governors and staff governors.
John Burns governing body also welcomes senior staff to attend and act as advisers and may from time to time ask other people to attend in this capacity too.
Working in partnership with the headteacher and staff, governors are involved in strategically managing the implementation of:
S

etting the school's aims and policies

Improving standards of teaching and achievement

Setting the school's budget plan and monitoring expenditure

Interviewing and appointing teachers and support staff

Acting as a link between the local community and the school

Dealing with complaints about the school

Drawing up the School Improvement and Development Plan and monitoring the success of the plan.
The full governing body meets as a whole group once a term to approve policies, review the progress and direction of the school and vote on significant decisions. In addition, governors attend specialist committees where the groundwork, research and discussion on key issues are undertaken.

Governing Body Members and Committees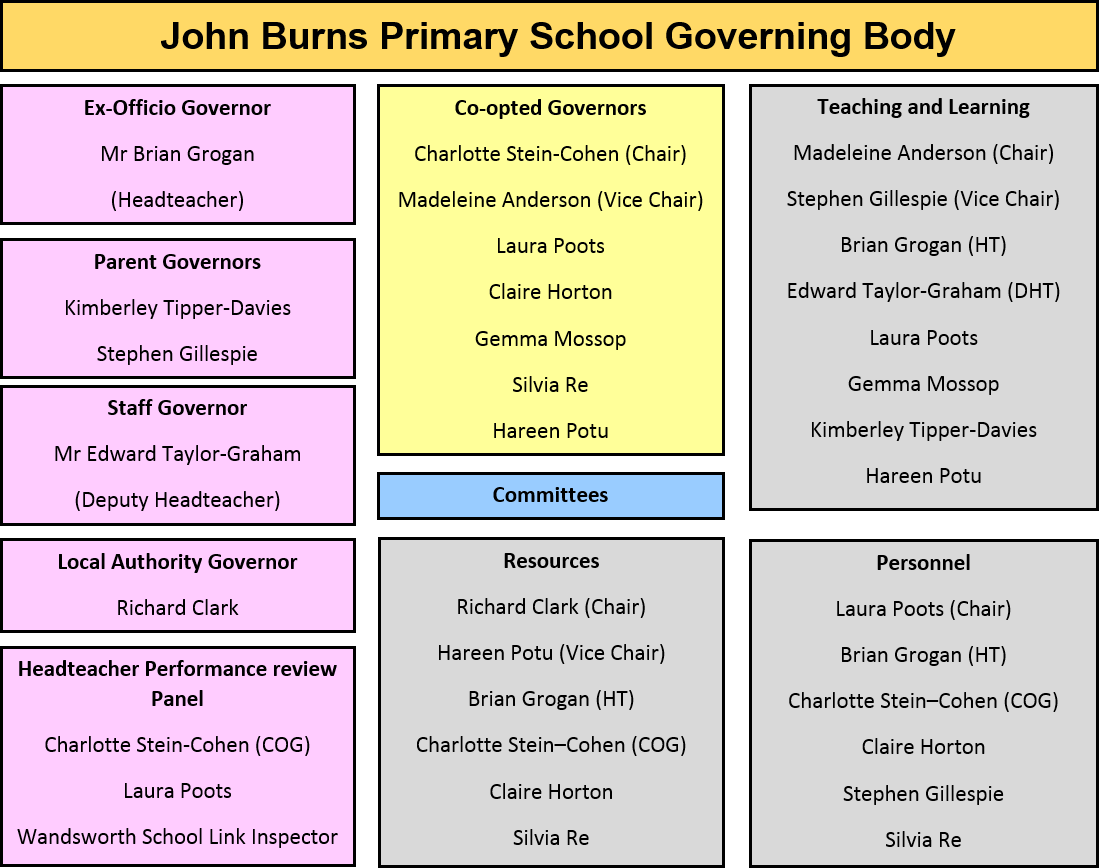 Governors Register of Interests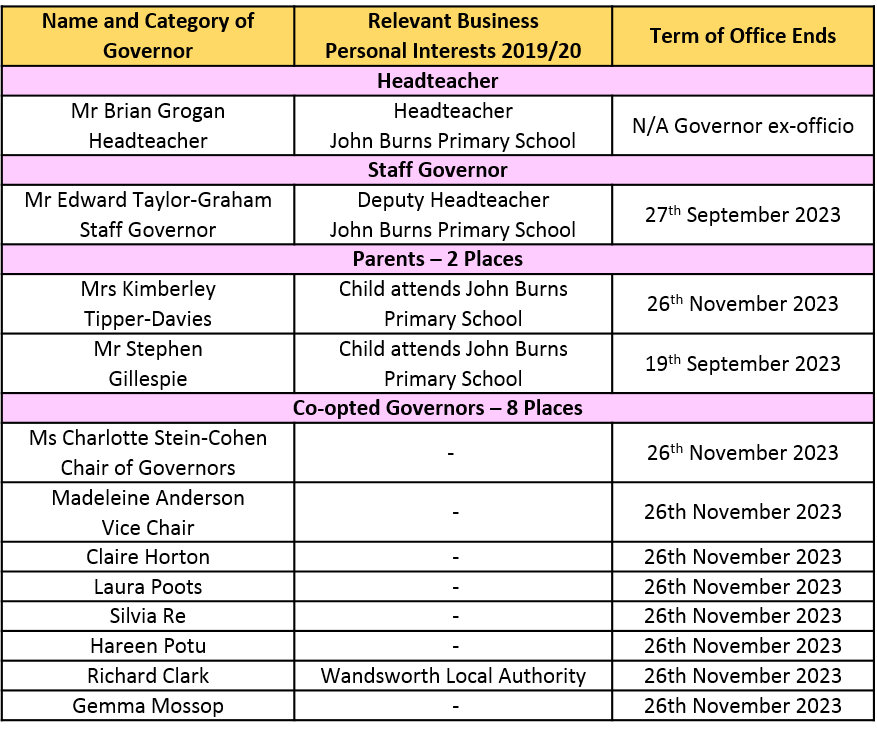 Governor Roles and Responsibilities
Name of Governor

Type of Governor

Term of Office

Link Role

Responsibility

Charlie Stein-Cohen

Co-opted Governor

4 years (26/11/19)

Pupil Premium/SEND

Chair of Governors

Madeleine Anderson

Co-opted Governor

4 years

(26/11/19)

CPD/Training

Vice-Chair of Governors

Chair of Teaching and Learning Committee

Laura Poots

Co-opted Governor

4 years

(26/11/19)

GDPR

Chair of Personnel Committee

Richard Clark

Local Authority Governor

4 years

(08/07/19)

Maths, Finance

Chair of Resources Committee

Claire Horton

Co-Opted Governor

4 years

(03/07/17)

NQTs

Silvia Re

Co-opted Governor

4 years

(26/11/19)

Science

Gemma Mossop

Co-opted Governor

4 years

(26/11/19)

Safeguarding

Hareen Potu

Co-opted Governor

4 years

(26/11/19)

Maths

Kimberley Tipper-Davies

Parent Governor

4 years

(26/11/19)

English, Humanities

Stephen Gillespie

Parent Governor

4 years

(26/11/19)

Sport Premium/PE, Computing

Vice Chair Teaching and Learning Committee
Governor Attendance 2018-19
Parent Governors
Parent governors play a vital role on governing bodies, holding the unique position of having a parental viewpoint of the school. Through their children, they have a first-hand experience of the delivery of the curriculum, and how the school is perceived from a parents point of view. This enables parent governors to bring a different perspective to the strategic management of John Burns.
It is important for parent governors to establish a rapport with the parental body which elected him/her, whilst continuing to maintain a strategic approach to school governance. Although being available to advise parents on appropriate routes of action is a very important aspect of the role, it is vital that parent governors do not personally become involved in individual concerns.
Parent governors are representative parents rather than representatives of parents. To effectively fulfil the role, parent governors should:
M

ake themselves known to the parent body

Attend in-service training sessions

Listen impartially to concerns raised by parents

Guide parents regarding appropriate lines of action and procedures

Present a balanced view of issues, representing different sections of the community.
Effective parent governors will find working alongside the other members of the governing body both interesting and rewarding. Their efforts will ensure that the work of the governing body fulfils its duties to all children.
Staff Governors
Staff governors are elected by other staff at the school to serve for between 1 - 4 years. Anybody who is employed at the school under a full or part-time contract of employment or services can stand for election.
Staff governors are representative staff members rather than representatives of staff, bringing a staff viewpoint and perspective to discussion and debate. They should not be seen as a 'go between' or staff delegate. They act according to their own conscience and follow the appropriate rules of governor protocol and confidentiality.
Staff Governors should:
Report in good faith any widely-held staff views, even if they decide to vote differently

Follow the agreed procedure for putting items on the agenda

Feel free to express their own personal views

Try to attend governor related in-service training sessions

Play an active part in governor meetings

Respect confidentiality and the need to act with circumspection.
Co-opted Governors
A co-opted governor is a person appointed by the governing body and who, in the opinion of the governing body, has the skills required to contribute to the effective governance and success of the school. As a co-opted governor, you may have an area of specialist knowledge or experience or bring a wide range of skills and experience to your role as a governor.
As a co-opted governor you will have:
An interest in all the children's futures

A desire to make a difference

A willingness to accept responsibility

An ability to work in a team, ask questions, listen and learn.

As a co-opted governor, you act in the best interests of the school and wider community and cannot be mandated to take a particular stance on issues.
Local Authority Governor
The local authority governor is nominated by the local authority (Wandsworth Council) and appointed as a governor by the governing body having, in the opinion of the governing body, "met any eligibility criteria that they have set".
Local authority governors work as part of the governing body team to promote high standards of educational achievement for every child. They are representatives of the local authority and although not expected to represent any one political view, their awareness and understanding of Wandsworth Council priorities and policies enables them to be appropriately informed when debating priorities at school level.
LA governors bring an external perspective about how the school fits into the wider provision of education, and he/she plays a key role in 'linking' the governing body to information about educational developments and Council priorities.
Local authority governors will have:
A passion for school improvement and raising standards

Familiarity with local authority priorities and a willingness to keep their knowledge up to date.

Support the aims of John Burns Primary School

Visit and get to know the school

Work in partnership with the headteacher and senior leadership team.